Let the Christmas season bring you a wind of changes…think for a moment what problems you did not solve this year? Discover which areas of your life need improvement and how can you achieve inner balance and harmony? Choose The Art of Changing your Mindset book as a Christmas Gift for yourself and the one you care about. Look at 12 areas to get started on your journey.
Everyone knows leadership comes at a cost – and if recently you've felt that cost is rising, you're far from alone. Over 50% of CEOs now report feeling lonely; the majority to a point where it's affecting their lives and performance. Lifespan data shows that persistent stress is causing a high percentage of C-level executives to visibly age faster, and even lose at least 1.5 years of projected lifespan. An estimated 72% of entrepreneurs suffer from at least one mental health issue: including depression and substance dependence. The majority of entrepreneurs state work life balance is the single biggest challenge they face. 75% of women executives report experiencing impostor syndrome, and significant feelings of self-doubt despite their achievements.
Too many of us give up on our dreams when life's problems arise. We postpone our plans until later, temper our ambitions and aspirations, and forget that our future depends on our own actions. We can lose faith in ourselves, and even lose hope. Is this really what we want?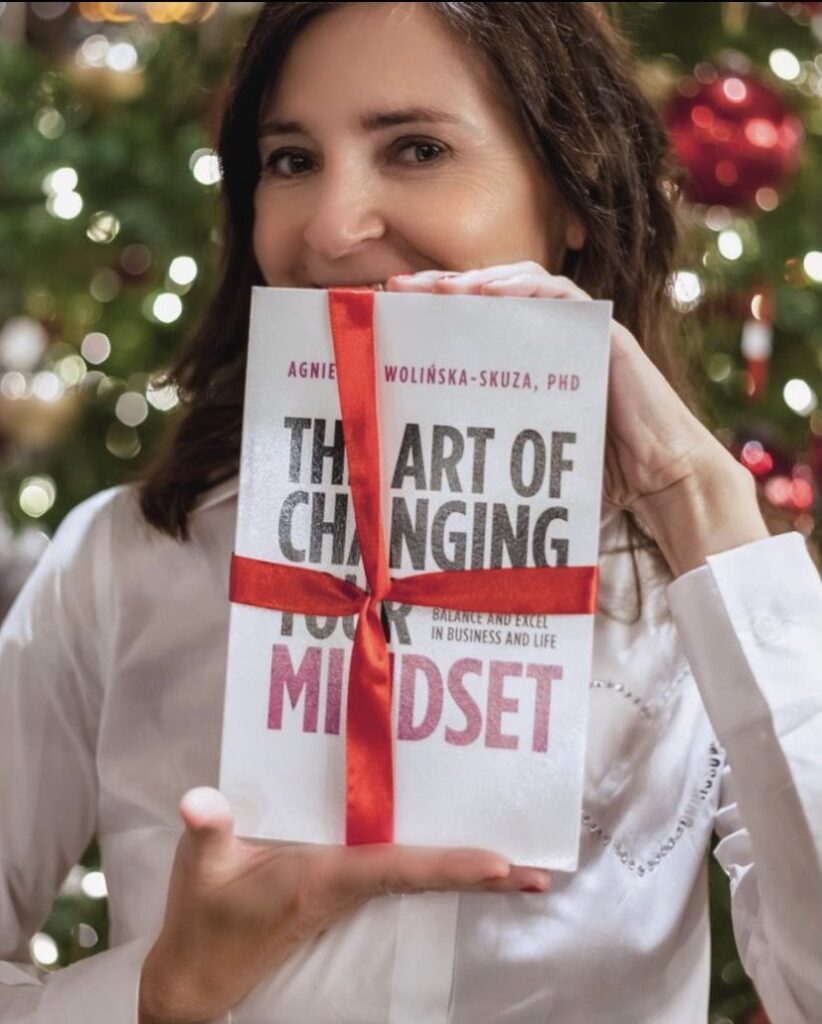 This Christmas, give a gift that leads to lasting happiness, joy, growth and fulfilment. Choose The Art of Changing your Mindset book as a Christmas Gift for yourself and the one you care about. Book your coaching sessions and redesign your life.
The Art of Changing your Mindset will help you to identify limiting believes and break the patterns that are holding you back. It will save you time searching for the "right" formula and allow you to test tools and strategies to achieve lasting results in key areas of your life, including personal growth, business, health, finances and personal relationships. You will learn how to take important actions and step out of your comfort zone to allow real growth to happen, and to start living a truly extraordinary life.
This book will support business leaders, executives and anyone who aspires to move in their quest to find harmony and balance in the most important areas of life, guiding them through every step of a transformational journey. Whoever you may be, this book will bring you back to basics and remind you of your vision and goals, so that you can regain control, make informed decisions and build supportive habits to create a life you want to live. It will help you to lay the vital foundations, to understand what life looks like at its best, and to decide your future intentions so that your path is clear, inspiring and full of success. It's your personal life journey. It's a place to plan, visualize, reflect, and prioritize. It's not just about what you get out of accomplishing your goals and achieving success, but also about who you become through this journey. It's about taking little steps at a time, so you can start forming habits that become a way of life, giving each moment the potential to bring you closer to the way you want to live.
The great many years spent working with my clients have taught me that the right mindset is the key to sustained success. Even the greatest of strategies will not succeed without the right mindset to implement it. When you change your mindset, you are able to transform your life. Most people are held back by their own limiting beliefs, becoming trapped in a cycle of negative self-talk and convinced that they're unworthy or unable of accomplishing their goals.
Capturing the 12 key areas of life, this book will walk you through the different dimensions in which this mindset plays a crucial role. It will encourage you to ask yourself lots of questions that are designed to help you reflect on your current situation and then provoke you to take action, change behaviors and habits, and create better choices to live the life you have always wanted to live – a better life.
All of our perceptions are colored by our mindset, beliefs, values, attitude, personal experiences, emotions, culture, and other factors that create our inner world. We can influence or change our mind about some of these factors and, in so doing, alter our perception of and our approach to work and life. On our way, we might meet lots of obstacles, and our limiting beliefs can distract, worry, and distress us. However, we can learn how to select our thoughts and change the way we act, so that we make better decisions and take a variety of constructive actions. This mental process is focused on changing behaviors to create better results and better performance. Finding solutions in any area of our life will immediately impact on our personal growth and well-being.
Throughout this book you will observe the use of various different tools and techniques that will encourage you to expand your mindset and bring value and strength to anything you choose to do. It will help you to remove your mental obstacles, broaden your horizons, give you space to think and encourage your commitment to the process.
Few years ago, based on many inspirations about Wheel of Life, I have built my own Inner Balance Inventory, which involves the 12 areas that I found to be the most important for my clients specially after the post pandemic time. By reading this book you will explore and reflect on 12 dimensions of life. Having a growth mindset is a prerequisite to working through this book, as it will help you to explore the following 12 areas of inner balance more effectively:
Life vision
Comfort zone
Creativity
Productivity and energy
Relationships
Career
Resilience against stress
Health and well-being
Spiritual life
Intellectual capacity
Financial freedom
Quality of life
Throughout the book, I will encourage you to go through each of the 12 categories and reflect on your answers to some very important questions. Each chapter will start with a set of questions, which aim to make you reflect honestly and without judgement on your current situation. In each chapter you will explore how you can develop in specific areas and which steps, tools and methods you can use. You will then have the chance to decide which you want to select and focus on to find more harmony and balance in your life. You will be encouraged to do some exercises, answer a lot of questions and take actions to apply what you have learned in order to build supportive habits to create the life you want to live.
For most of you, these 12 areas of inner balance are a good starting point. You can set yourself goals and create a new vision for the next year or more. Now, take a moment to honestly evaluate the following questions:
How do you feel about your life in each sphere?
What is the most important area for you?
Which of these areas do you devote the most attention to?
Which of these areas would you most like to improve?
What is a small step you could take to get started?
You need to be clear about these preferences in order to make changes in your life. Circumstances may change, but your underlying values do not. We all know that opportunities will always present themselves, but we can be better prepared for them. In the Afterword at the end of the book, you will have the opportunity to make your own roadmap plan, which you can revisit every year.
Searching for balance and harmony in the most important areas of your life is creative work. It requires effort, consistency, and a lot of energy. Going beyond your comfort zone takes courage and determination, as well as the ability to see your life from a bird's-eye view. This is a kind of mental exercise in which you evaluate your limiting beliefs, fears, and longings, while at the same time looking at where your dreams, aspirations and ambitions come from. By doing this mental exercise, you create a map of yourself and become more aware of where you are now. Frustration in one area of your life may show that in another area something is not working. Very often the changes you want to make don't have to be radical. Sometimes you have to simply experiment and see how things go.
This book is broken down into the 12 steps that will guide you through the process of achieving inner balance. I believe this book will be an inspiration for you to shape, reshape and transform your mindset, and to achieve balance in the 12 most important areas of your life, business, and more. While reading each chapter, you will have lots of possibilities to experiment with the way you think, absorb things, and apply different methods and tools discovered in this book. Are you ready to start?
The Art of Changing your Mindset is a book that can inspire and encourage you to create a meaningful change in 2023. Merry Christmas and a Happy New Year!